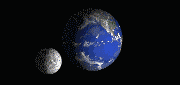 Don't forget to visit our good friends,
Dharma Bums
, and see the latest selection of photos in their
Good Planets, 10/28
. Some readers of this blog might not be familiar with the project. In August, The Bums invited readers of their blog to send them photos illustrating the wonder and beauty of the planet we live on. The idea is based on Steve Forbert's song:
Good Planets Are Hard to Find
. These photos have been published on the Dharma Bums blog every weekend.
As this project has taken off, with more and more people sending in their wonderful photos, several friends have offered to work on it with The Bums. Robin Andrea graciously accepted my offer to host Good Planets in November. For the next four weeks, send your photos to tortoisetrail AT gmail DOT com. December's host will be Divajood of
Journeys with Jood
.
Past editions of Good Planets may be found at Dharma Bums:

8/19 - Saturday share-a-pic
8/26 - pictures, we get pictures
9/02 - Good Planets are hard to find
9/07 - it's saturday
9/16 - Good Planets Are Hard to Find #5
9/23 - Good Planets Are Hard to Find - Critter Edition
9/24 - Good Planets Are Hard to Find #6
9/30 - Good Planets Are Hard to Find #7
10/07 - saturday
10/14 - Good Planets State Secrets


10/21 - Good Planets Are Hard to Find 10/21
10/28 - Good Planets Are Hard to Find 10/28