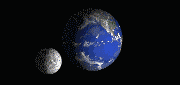 Welcome to
Good Planets Are Hard to Find
! This project was originated by Robin Andrea and Roger, aka the
Dharma Bums
. They are graciously allowing me to host it for the month of November.
I'm happy to present to you this week's contributions celebrating planet Earth -- truly beautiful and full of wonder.
(Click on the photos to see them full size.)

Throughout the world, countries have taken action to preserve beautiful areas. The United States has national parks, national forests and national wildlife refuges. Paul shares with us the grandeur of
Bryce Canyon
, a national park in southern Utah.
We are always captivated by the ocean. Sky, who writes that the Good Planets photo project is such a lovely commentary on our world, sent a photo of "the blustery surf around Pescadero Beach, a sight we caught while driving along the coast from Monterey to Big Sur on California Highway 1."
Susannah sent images from the rocky end of the White Rock beach (White Rock, BC, Canada) showing two very different moods.
Birds always delight us. From Robin Andrea of Dharma Bums:
Roger and I went for a walk yesterday, and as luck would have it, we came up to a small dirt road right at the moment a large bird flew to a tree trunk right across from us. At first I thought it was a big crow, but when I saw that red head, I knew I was seeing a Pileated Woodpecker for the first time. We were quiet and she stayed long enough for me to get three photographs. I've been wanting to see one ever since we moved here. This was quite a treat.
Dawn's fast reaction captured a magnificent Northern Harrier flying above her head. She took this photo at
Nisqually National Wildlife Refuge
in southern Puget Sound, Washington.
We always find beauty in the colours of flowers and the miraculous structures of plants. Phil sent us a Shooting Star, photographed on the
Pacific Crest Trail
near Mt. Ashland, in southern Oregon.
And from the United Kingdom, Rowan of Circle of the Year, celebrates autumn with a photo of the woodland floor in the north of England.
Much of the beauty we enjoy is human-made. Rowan also sent a photo of a thatched cottage in Sussex which she thinks is enchanting. I agree.
Thanks to all who've shared photos this week. I'll be hosting throughout November. Please send your images to tortoisetrail AT gmail DOT com.