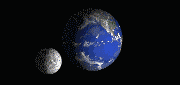 Welcome to the weekly presentation of Good Planets, a project originated by Robin Andrea and Roger of
Dharma Bums
to celebrate the beauty of our planet. I'm delighted to be hosting this month.
(
Click on the photos to see them full size.
)
Phil starts us off this week with an encouraging shout: "Roll on, Columbia, roll on!"
We marvel at the closeup photography of Robin Andrea's twin, Michael, who presents lovely flowers from his garden:
Robin Andrea celebrates the wildlife of the Pacific Northwest. "The birds have been going crazy in our yard. We've had enough rain for a few puddles to form, and the goldfinches just love them. The puddles disappear fairly quickly, so it is really interesting to see the birds make good use of this spontaneous pond."
Describing a deer they saw on a walk in their neighborhood, Robin Andrea writes: "The white-tailed deer ... was standing in the long front lawn of someone's house, eating the fallen apples. Quite a beautiful young buck that was absolutely unconcerned by our presence."
Dawn dramatically portrays a crow leaving a tree
and treats us to wild horses in Murphy, Idaho in the summer of 1998. She writes: "They are real wild horses. I was thrilled they let us get very close as long as we were on 4 wheelers, so I had to be fast taking their picture."
Xris (
Flatbush Gardener
) travelled in North Carolina and New York State during the past month:
Looking Glass Falls, Pisgah National Forest, North Carolina
Virgina Creeper, North Carolina Arboretum
LLama at the New York State Sheep & Wool Festival
Goldfish and Lilypads at Brooklyn Botanic Garden's Lily Pool Terrace.
In the southern hemisphere, Gary (brother of Roger of Dharma Bums) sends us photos of the north end of Espiritu Santo Island (the inspiration for James Michener's "Bali Hai") in the country of Vanuatu
and some smaller islands in Fiji.
Many of this week's contributors have been inspired by the autumn colours in the northern hemisphere of our beautiful planet.
Yankee T. of
Yankee, Transferred
shares with us the October Glory Maple in her front yard. It was a housewarming gift, and has grown from a spindly sapling into a beautiful young tree.
Rowan of
Circle of the Year
lives near the
Peak District
in England. Her contributions this week show us this lovely countryside.
A Mindful Life
says "I live in Silicon Valley, where the density of population and urban development predominate. However, earth's beauty can be appreciated even here. [This] photo is one example."
c. corax's Anglewing Butterfly echoes fall colours:
Forty-five years ago, Roland took this photo of a late autumn afternoon in Ridgefield, Connecticut:
===================================
Good Planets is open to anyone who'd like to share the beauty of their own world with us. Heartfelt thanks to the photographers who contributed to this issue. I'll be hosting Good Planets throughout November. Please send your photos to tortoisetrail AT gmail-dot-com by 9 pm MST, Friday, November 17 for the next issue.